Toll-Free
877-252-4527
Email
contact@tmrspro.com


"Since Tri Med has come on board they have been an asset to our company. Not only have they changed our way of billing, they have also been instrumental in reorganizing our front desk. They have increased our revenue substantially, and I would highly recommend their services."
Raveco Medical PC Forest Hills, New York

Tri Med Reimbursement Solutions is comprised of professional healthcare administrators with over 15 years of experience with a primary focus on revenue cycle management. Our areas of expertise include Healthcare Information Technology Management, Business Office Management, and Clinical Management.
Our in depth knowledge and vast experiences assure that our accounts will be handled professionally, efficiently, and expediently. It is our goal to provide exceptional and economical billing services, and specialized technical support services.

Our in-depth knowledge and vast experience separates us from other billing services.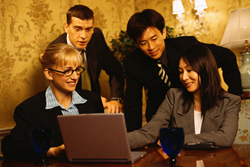 We are committed to maintaining mutually beneficial relationships with our clients. We strive to attain the highest degree of professionalism, integrity, business, and work ethics. It is our business to improve your business, and our success is determined by our ability to increase your revenue.
Our threefold mission is to find the weaknesses that prevent cash flow, provide solutions, and incorporate training to prevent recurrence of these issues.